I am a big movie fan, especially horror movies. What's better than a horror movie fest on the run up to Halloween? Here are some scary films I personally recommend!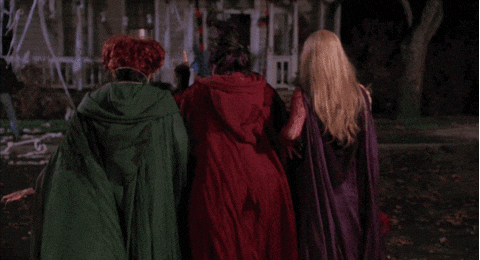 Source: Giphy
Ok, so not all are horror films, most Halloween films are aimed at kids, but totally enjoyable by us October loving adults! I really enjoy all of this films, but I've ordered them so that my very favourites are at the top. Get planning!
Hocus Pocus (1993)
Room 1408 (2007)
The Conjuring (2013)
The Conjuring 2 (2016)
The Shining (1980)
The Sixth Sense (1999)
The Visit (2015)
Sleepy Hollow (2003)
Halloween Town (1998)
The Addams Family (1991)
The Addams Family Values (1993)
The Haunted Mansion (2003)
Pet Semetary (1989)
The Nightmare before Christmas (1993)
The Exorcism of Emily Rose (2005)
The Witch (2015)
Lights Out (2016)
The Exorcist (1973)
The Devil Inside (2012)
Annabelle (2014)
Annabelle: Creation (2017)
Mirrors (2008)
The Ring (2002)
The Woman in Black (2012)
Stigmata (1999)
Pride and Prejudice and Zombies (2016)
Halloween Town 2 (2001)
The Babadook (2014)
The Amityville Horror (1979)
The Blair Witch Project (1999)
Sinister (2012)
Get Out (2017)
Would You Rather (2013)
Ghostbusters (1984)
Split (2016)
The Purge (2013)
If all those movies aren't enough for you, here's a few scary TV/Netflix series I recommend!
American Horror Story (2011-)
Stranger Things
It (1990)
The Walking Dead (2010-)
Salem (2014)
What's on your Halloween watch list?